Ross McLaren recently sent me these photos of a skipper he caught in Far North Queensland, the identity of which is something of a mystery to both Ross and myself :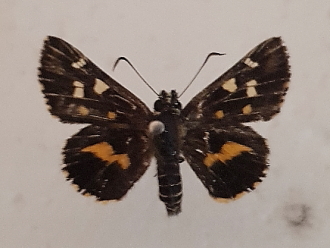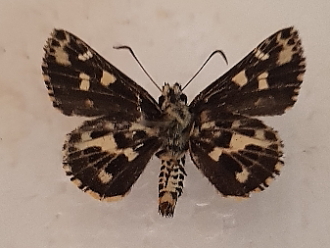 Given the location, the only thing that fits is Hesperilla ornata monotherma, the northern subspecies of the Spotted Sedge-skipper. The problem with that identification, of course, is the fact that this butterfly doesn't look much like monotherma at all.
The specimen is a female; females of monotherma have greatly reduced spots on the upperside, whilst this specimen's spots are more like those of  the southern subspecies H. ornata ornata. The underside doesn't look much like that of any ornata I've ever seen.
I don't have any photos of the monotherma subspecies; I've only ever seen one and I accidentally disturbed it before I got close enough for a photo. What can I say; I'm a clumsy ox. So for comparison, I've embedded images of female H. o. monotherma on Geoff Walker's wonderful Australian Butterflies Photographed website. If you aren't familiar with Geoff's site you should have a look around; he has over 400 species (100 ahead of me), many of which make me very jealous indeed!
So the question is, is this butterfly simply an aberrant specimen of Hesperilla ornata monotherma, or has Ross stumbled across a new subspecies, or even a new species?  He plans to return to the location to see if he can find any more of these mystery skippers.
If you have any thoughts on this, the Comments section is just below (hint hint!).