The Silky Hairstreak (Pseudalmenus chlorinda) is  only a small butterfly, with a wingspan under 3cm, but its dark-chocolate wings with bright orange bands, complete with silvery-grey underside, make it one of Australia's most gorgeous species. However, after recent taxonomic research it is now two of Australia's most gorgeous species…
Until recently, P. chlorinda had 6 subspecies recognised in Michael Braby's humungous Butterflies of Australia book. I myself have only seen and photographed P. c. chloris, the subspecies that occurs in the NSW Blue Mountains and Southern Highlands. Most of my shots come from the first time I ever saw this Hairstreak; a special day when several very fresh specimens allowed me to photograph them by a roadside near Bowral.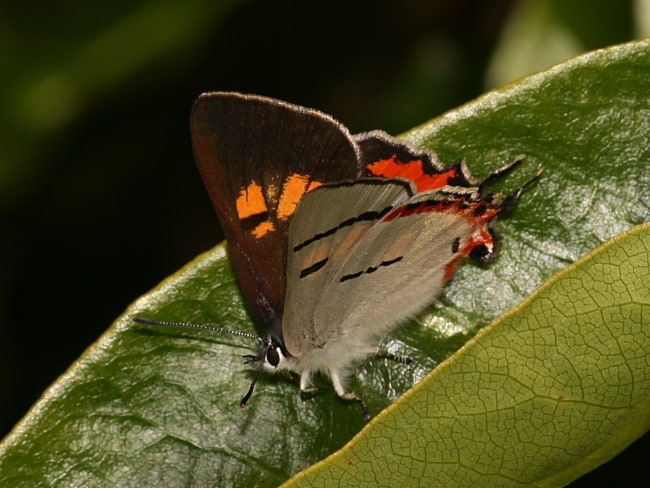 Pseudalmenus chlorinda chloris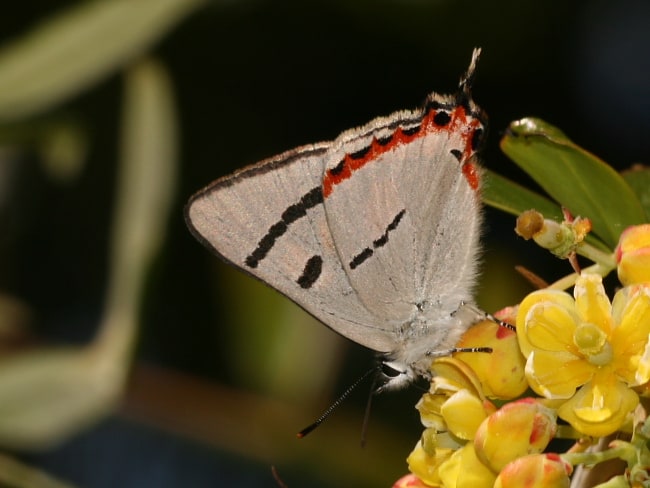 Pseudalmenus chlorinda chloris
The new species
I had been told that work was being done on chlorinda and it was likely to be split, but I didn't hear any more until Rod Eastwood emailed me a copy of the relevant paper, which he co-authored with Michael Braby. They researched the most colourful subspecies, P. c. barringtonensis, found at Barrington Tops and some other parts of north-eastern NSW, as a result of which they elevated it to species status.
The proposed common name for the new species is Flame Hairstreak, which does seem appropriate given the colour of the orange bands on the upperside, especially those on the hindwings. 
The paper goes into great detail about the different markings of this species when compared to chlorinda, as well as describing DNA analysis and differences in the final instar larvae. I'm not going to plagiarise the paper by regurgitating passages of its text; anyone wanting to read all the details can get a copy here or here.
Specimens
Whilst I have not seen P. barringtonensis in the wild, I have seen specimens in my mate Al Hopkinson's collection.  Al very kindly sent me photos of the new species, as well as two of the P. chlorinda subspecies for comparison.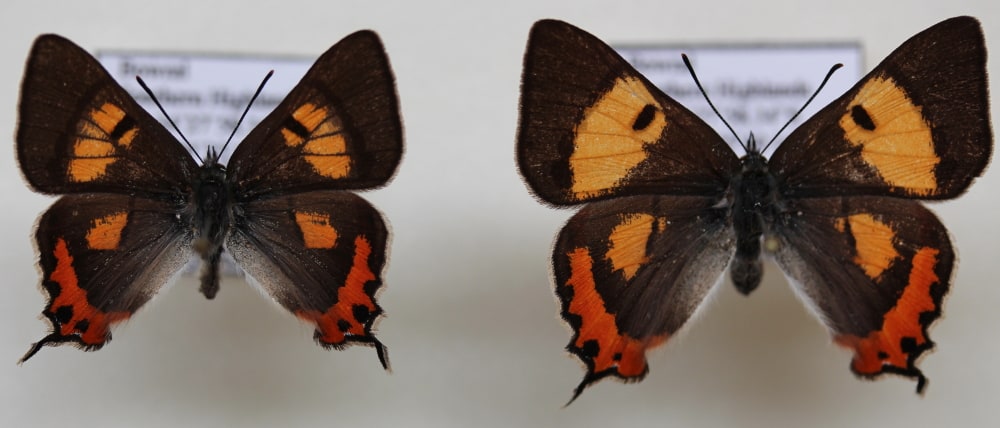 Fraud!
Michael Braby and Rod Eastwood's research also uncovered a fraud perpetrated by a British butterfly collector named Colin Wyatt, who spent a few years in Australia in the mid 1940s. He went on plenty of productive collecting trips, but appears to have been more successful in acquiring specimens by other means. He stole up to 3000 specimens from Australian museum collections and sent them back to the UK, where he replaced their data labels with fakes to hide their sources. Strangely enough whilst Wyatt's 1955 memoir Going Wild : The Autobiography of a Bug Hunter includes two chapters about his Australian sojourn, he somehow manages to omit mentioning his blatant larceny (which led to his prosecution in 1947).
Amongst his stolen haul was the holotype of what was then known as P. c. barringtonensis. Wyatt sneakily covered this up by taking one of his own specimens of P. c. chloris and painting it to look like barringtonensis, a deception which survived for over 70 years. My mind boggles at the thought of someone so obsessed in his desire to own rare butterfly specimens that he would go to such lengths to get what he wanted.
There's an interesting article here about Wyatt and his fake specimen – even if you're not interested in Wyatt's story I'd recommend the article for Michael Braby's beautiful photo of a live female barringtonensis, a shot which makes me rather envious. If I were Colin Wyatt I'd steal that photo for sure, and claim it as my own…
Family tradition
It's time for me to make a confession. Colin Wyatt was actually my maternal great-grandfather, and unfortunately I have inherited many of his traits. So, following in a time-honoured family tradition, here is my totally genuine and absolutely not faked photo of Pseudalmenus barringtonensis, taken in the wild somewhere near Bowral at Barrington Tops :