Glenbrook, in the lower Blue Mountains, is home to several good butterfly sites, one of them being the bushland at the end of Cox Street. I've been to this site on numerous occasions because as well as (sometimes) providing an interesting selection of butterflies it has the added advantages of being a) only a short train ride from Sydney and b) just a few minutes' walk from Glenbrook station. All the butterflies shown in this post were photographed here.
Directions
To get to the site I hang a left upon leaving the station and walk along Burfitt Parade, taking another left at Cowdery Street to pass over the train line. I cut through the Douglas Smith Memorial Park to reach Cox Street, then head right and walk to the end of the street where a gated path to the right leads up into the bushland.
It's not unusual to see butterflies at the side of the road along Cox Street, though this area used to be more productive before someone began regular brutal mowing of the roadside vegetation.
Near the entrance
Right around the gate at the entrance to the bushland there will almost always be Grey Ringlets (Hypocysta pseudirius) on the wing, and a little further up the path Orange Ringlets (Hypocysta adiante) are often to be seen. This is usually a very reliable site for both these Ringlets, at the right time of year, though for some reason I didn't see a single adiante in this bushland during the 2018-19 season, which was sad as it's a lovely little butterfly and I always enjoy watching it.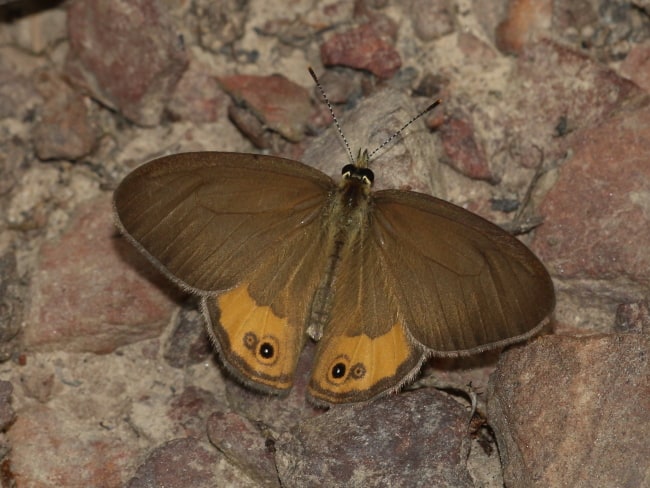 Grey Ringlet
(Hypocysta pseudirius)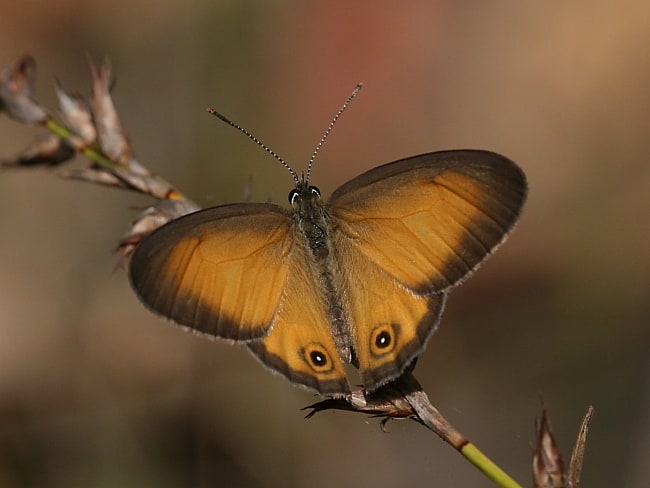 Orange Ringlet
(Hypocysta adiante)
After a short rise the path reaches a T-junction, where as well as Ringlets I've often seen Dingy Swallowtails (Papilio anactus), usually fluttering around in their typically frustrating manner before, after many abortive attempts, finally settling on a low shrub. Once they've landed it's best to stay still for a a minute or two before approaching as cautiously as possible to get within range for photos. 
From late November to mid April it's also possible to find Ringed Xenicas (Geitoneura acantha) here; they're scattered throughout this area of bushland though only in low numbers in my experience. This is another frustrating butterfly; they don't like to let me get close though from time to time one will just sit tight and rely on its camouflage.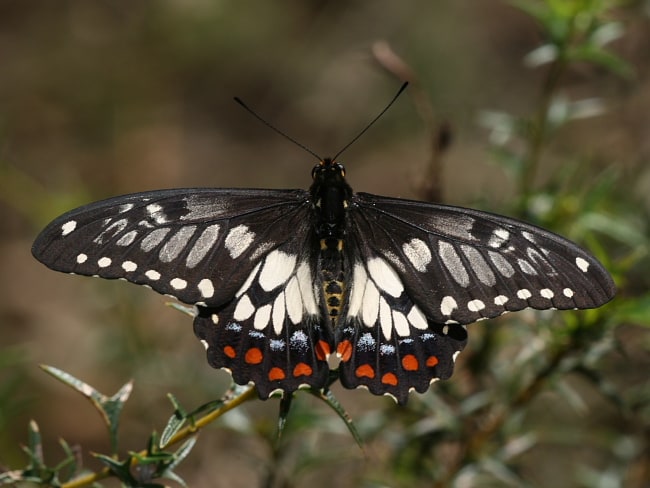 Dingy Swallowtail
(Papilio anactus)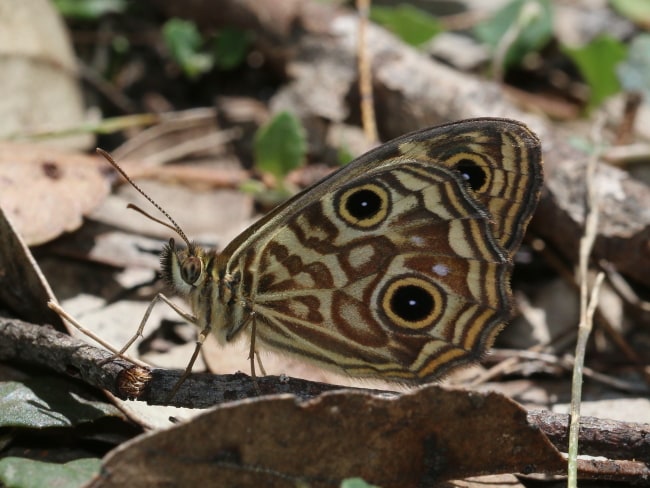 Ringed Xenica
(Geitoneura acantha)
At the T-junction I usually turn left and head towards the slightly raised area about 350 metres away, which is somehow high enough to serve as a hilltop. On the way I generally see very few butterflies. In the September/October there will probably be a few Fringed Heath-blues (Neolucia agricola) as they are found in most of this bushland at that time; every now and then there will be a bumper year (e.g. 2009) when the place is swarming with these little butterflies. As I've joked many times, whoever named this species the "Fringed Heath-blue" must have been colour blind, as I don't think it has a single blue scale anywhere. Perhaps "blue" is a stretch goal they've never been able to attain. 
In the March/April the small Wattles along this path are frequented by Imperial Blues (Jalmenus evagoras), mostly within about 100m of the T-junction. Unlike some colonies I've never seen a large number of evagoras here, but most years a few can be found.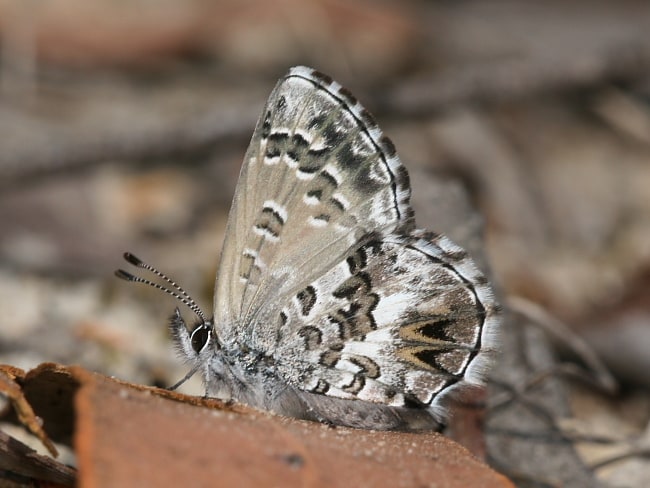 Fringed Heath-blue
(Neolucia agricola)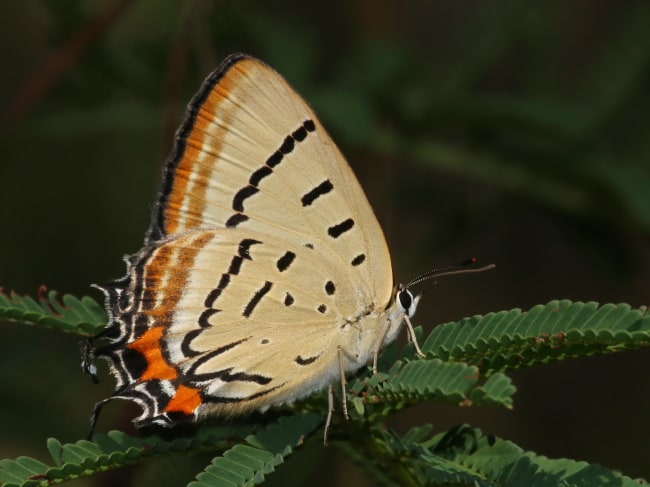 Imperial Blue
(Jalmenus evagoras)
The "hilltop"
As there are rarely many butterflies along the preceding stretch of track it doesn't take long to reach the "hilltop", which I've put in quotes because it's not exactly Mount Kosciuszko, being very slightly higher than the surrounding bushland.
This area is generally home to the Orange and Grey Ringlets, and it's not unusual to see one or two Swordgrass Browns (Tisiphone abeona) dancing about, though they're rarely in the mood to pose for photos. If you look up to the canopy you may well see Common Jezebels (Delias nigrina); I've often seen them here though they've never descended from the trees. The only nigrina I've ever photographed at this location was a pupa I happened to find attached to a grass stem just to the side of a track.
At times Common Browns (Heteronympha merope) live up to their name, though I rarely spend time trying to photograph them as they're usually so hard to approach it's just a waste of time. Being a hilltop of sorts it's no surprise to find Dusky Blues (Candalides hyacinthinus) here too; they are very territorial and seem to take delight in disturbing whichever butterfly I'm attempting to photograph.
This area is, however, most notable for Hesperids. In some years it's a very good site for the Southern Silver Ochre (Trapezites praxedes), which is one of those species I can't help but photograph whenever I see it, although to be fair that's true of all just about all the Trapezites skippers. Whilst it's much more common around March/April, I have also found praxedes in the Spring, including one occasion in September 2013 when I observed a female laying eggs on what I think was Lomandra obliqua, though I must emphasise that I'm a lousy botanist.
I've found Orange Ochre (Trapezites eliena), Splendid Ochre (T. symmomus) and Black-ringed Ochre (T. petalia) around here as well on several occasions, but it I had quite a surprise in early October 2016 when I found a few Silver-studded Ochres (T. iacchoides) on this spot, this being a species I've rarely seen this close to Sydney. I haven't seen iacchoides here since that day, but I intend to keep looking for them.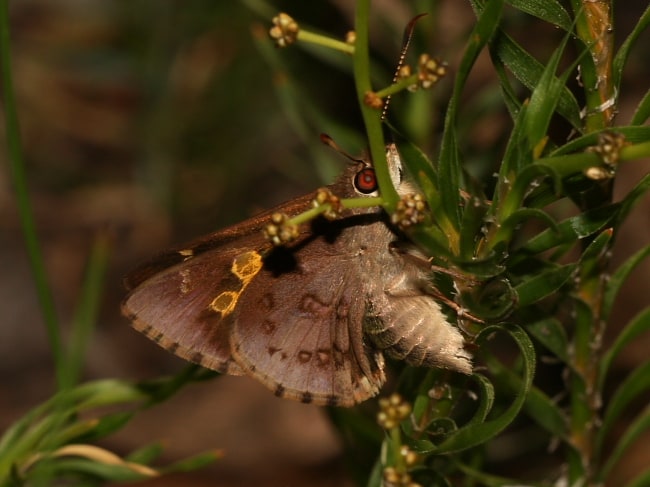 Southern Silver Ochre
(Trapezites praxedes) female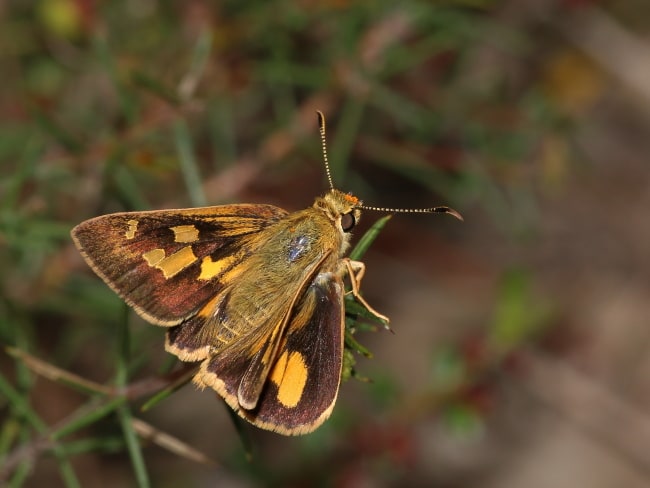 Orange Ochre
(Trapezites eliena)

Black-ringed Ochre
(Trapezites petalia)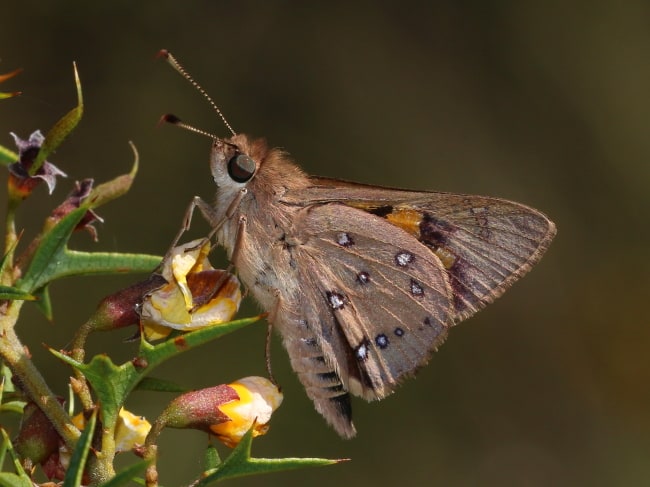 Silver-studded Ochre
(Trapezites iacchoides)
The other hilltopping skippers found here are, perhaps inevitably, the Dingy Grass-skipper (Toxidia peron) and the  Eastern Iris Skipper (Mesodina halyzia). There are usually one or two males of both species staking their claims to small sections of the hilltop area during the warmer months.
I also used to find this bushland to be a good site for some of the smaller skippers, not just the ubiquitous Grass-darts but the Parvula Skipper (Toxidia parvula) as well, though in recent years these have become much harder to find here. When the Pimeleas are flowering they are very attractive to many skippers. I've photographed the occasional Lilac Grass-skipper (Toxidia doubledayi) nectaring at the flowers, though one of the most interesting butterflies has been the Painted Sedge-skipper (Hesperilla picta), which shows up from time to time. This is quite notable as picta is normally found closer to the coast; I think the Blue Mountains is the only place where it extends so far inland.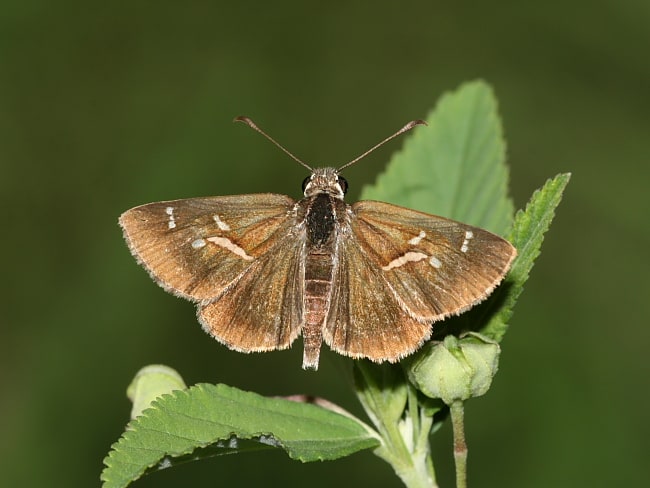 Parvula Skipper
(Toxidia parvula)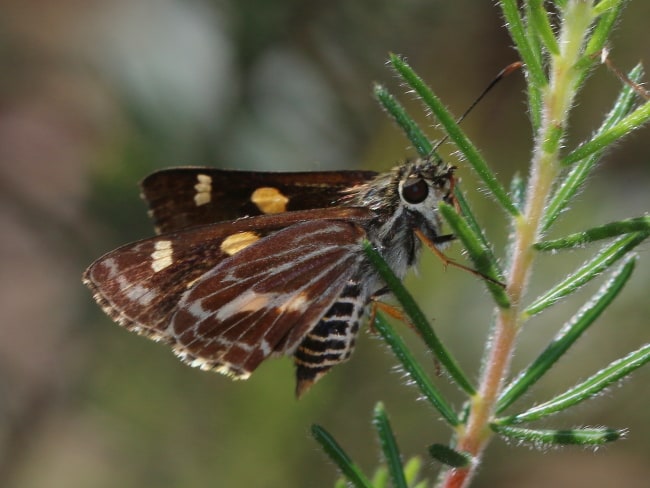 Painted Sedge-skipper
(Hesperilla picta)
There are several tracks through the bushland, and they're all worth exploring if you have the time. One or two of them become difficult to follow, especially if you go off piste to chase after a butterfly; I once lost a track and ended up in someone's unfenced backyard, to the great concern of the owners.
The bad news
Like most sites, the Cox Street bushland has its ups and downs. At the moment it's going through a bad patch. In fact I'd say it had a wretched 2018/9 season; I saw very little of interest there at all. My guess is that this bushland could do with a bushfire to provoke a period of regrowth for some butterfly foodplants, though its close proximity to houses means any fires would be closely monitored. There was a small controlled burn there a few years ago, but nothing major. Some decent rain would probably help too; this is a rather dry site and the undergrowth looks quite thirsty at the moment.